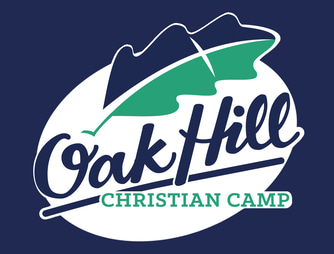 Located on twenty-six beautiful acres near Mechanicsville, Virginia, Oak Hill Christian Service Camp has been providing a fun, safe place for students of all ages to learn about Christ since 1953.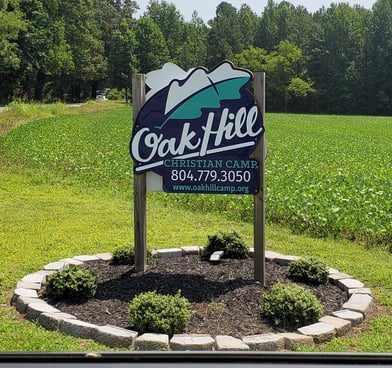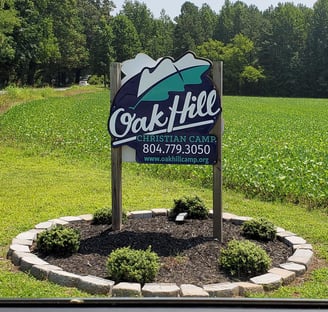 LOVE - A new command I give you: Love one another. As I have loved you, so you must love one another. By this all men will know that you are My disciples, if you love one another. (John 13:34-35)

May they be brought to complete unity to let the world know that You sent Me and have loved them even as you have loved Me. (John 17:23)
WORSHIP - But the time is coming–it has, in fact, come–when what you're called will not matter and where you go to worship will not matter. "It's who you are and the way you live that count before God. Your worship must engage your spirit in the pursuit of truth. That's the kind of people the Father is out looking for: those who are simply and honestly themselves before him in their worship. (John 4:23)
YOUTH - These commandments that I give you today are to be upon your hearts. Impress them on your children. Talk about them when you sit at home and when you walk along the road, when you lie down and when you get up. Tie them as symbols on your hands and bind them on your foreheads. Write them on the doorframes of your houses and on your gates. (Deuteronomy 6:6-9)
Jesus said, "Let the little children come to me, and do not hinder them, for the kingdom of heaven belongs to such as these." (Matthew 19:14)
EXCELLENCE - What ever you do, work at it with all your heart, as working for the Lord, not for men, since you know that you will receive an inheritance from the Lord as a reward. It is the Lord Christ you are serving. (Colossians 3:23-24)
For by the grace given me I say to every one of you: Do not think of yourself more highly than you ought, but rather think of yourself with sober judgment, in accordance with the measure of faith God has given you. (Romans 12:3)
SPIRITUAL GROWTH - Therefore, since we are surrounded by such a great cloud of witnesses, let us throw off everything that hinders and the sin that so easily entangles, and let us run with perseverance the race marked out for us. (Hebrews 12:1)
Therefore, my dear brothers, stand firm. Let nothing move you. Always give yourselves fully to the work of the Lord, because you know that your labor in the Lord is not in vain. (1 Corinthians 15:58)
STEWARDSHIP - But just as you excel in everything–in faith, in speech, in knowledge, in complete earnestness and in your love for us — see that you also excel in this grace of giving. (2 Corinthians 8:7)
Each one should use whatever gift he has received to serve others, faithfully administering God's grace in its various forms. (1 Peter 4:10)
MISSIONS - Then Jesus came to them and said, "All authority in heaven and on earth has been given to me. Therefore go and make disciples of all nations, baptizing them in the name of the Father and of the Son and of the Holy Spirit, and teaching them to obey everything I have commanded you. And surely I am with you always, to the very end of the age." (Matthew 28:18-20)
PRAYER - "And pray in the Spirit on all occasions with all kinds of prayers and requests. With this in mind, be alert and always keep on praying for all the saints." (Ephesians 6:18)
If you remain in me and my words remain in you, ask whatever you wish, and it will be given you. (John 15:7)
Planting seeds that will grow.
Oak Hill Christian Service Camp exists to serve the community by providing camp facilities and Christian programs to challenge campers to accept Christ and become active Christians in their communities and schools.
Interim Camp Manager - Heather Ferguson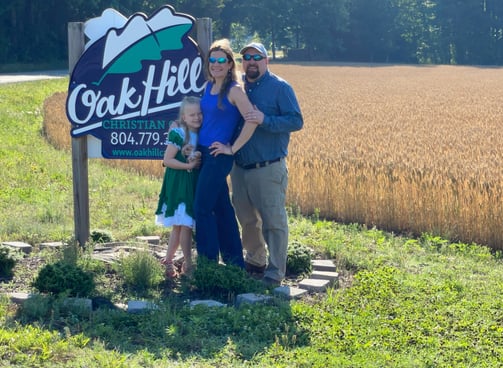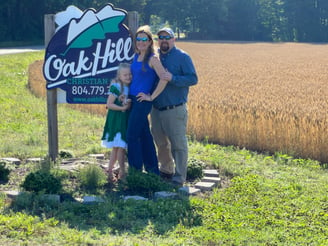 While the Board takes some time to evaluate the Camp Manager role, I have been appointed to serve as Volunteer Interim Camp Manager.

I am extremely thankful to the Leadership at Compass Christian Church for allowing me to serve in this capacity for the camp season.
Camp ministry is very much a family ministry and I am so grateful for my family, my husband Brandon, and our daughter, Zoey, who both serve right beside me in this new role!
Why do we love Oak Hill Christian Service Camp so much? I can hardly begin to put it in words. I have personally witnessed the Holy Spirit stir hearts, change lives, alter destinies, and rescue souls… all while at Oak Hill Christian Service Camp. We seek to bring Him all the glory through an amazing summer of camp this year!
Page Pigg
Chair / Grace Christian Church Representative

Heather Ferguson
Vice-Chair / Compass Christian Church Representative

Kim Coleman
Treasurer


Carol Campbell - Bonnie Brae Church of Christ Representative
Krista Barnes - Fairmount Christian Church Representative

Steve Dunham - Calvary Christian Church Representative

Connor Dunn - Gethsemane Church of Christ Representative

Michael Jackson - Unionville Christian Church Representative
Todd Martin - Bethany Christian Church Representative

Shawn Williams - Forest Grove Church of Christ Representative

"Train up a child in the way he should go; even when he is old he will not depart from it."
– Proverbs 22:6